ST-14 (PC rack)
● A personal computer and printer are set on this mobile rack.
● This PC rack can be moved to an arbitrary position for operation.
● Touchscreen PC simplifies repeat accuracy test procedures.
● The gear measuring machine can be operated through PC.

※Specification of PC and monitor is subject to change without notice.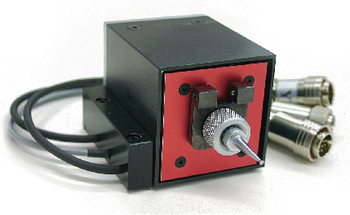 2R-Zero Detector
● 2R sensor can detect displacement in Y and Z directions.
● There is no need of setup for worm gears testing.
● The position of the top and bottom surfaces of SHV can be measured accurately and its result can reflect the positions on the measurement data.
● This sensor can function as 3D sensor by adding displacement sensing in X direction. Master Gear
● We offer Custom-made master gear.
Feel free to contact us for details such as size and specification.
Contact us