Our company is committed to providing
valuable products which satisfy customers by
quality, cost and services.
Process Approach and Continuous improvement
'Client First' shall guide ways of working for us, all of employees at Tokyo Technical Corp. We shall understand how we can contribute to customer satisfaction and quality improvement through our business, design/development/production/sales.
We are committed to make effort to achieve customer satisfaction by providing highly precise and qualified products which are processed and assembled with successful technologies and long experience in an orderly circumstance.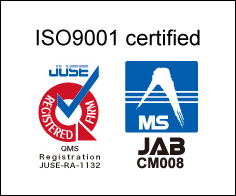 [Registered Client]
Tokyo Technical Instruments Inc., Ashikaga Factory
[Scope of Registration held]
Design, Development, Manufacturing and Sales of
CNC Gear Measuring Machine
Our unique technology to enable precise measurement
Symmetric construction
Each axis is designed symmetrically against center of the bed to increase stability of measurement.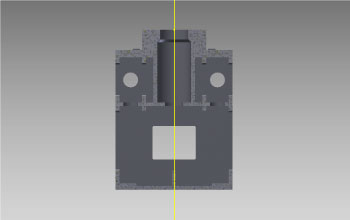 Mirror finish increases the resistance to wear
All sliding surfaces are processed with mirror finishing job to increase wear and abrasion resistance. We developed the special lapping device for high-accuracy processing.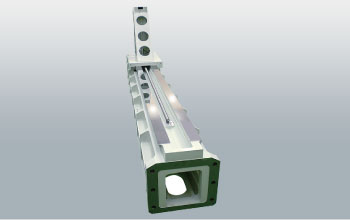 A standard surface plate
We make the surface plate from a casting made according to our original design, and finish it by scraping precisely. Its flatness is measured with the laser interferometer for guarantee.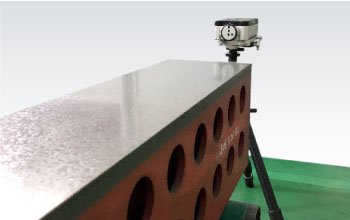 Measure block
We finish six plane surfaces of the block into mirrors and maintain high precision and high density. This block is used for quality assurance of assembling gear measurement machines.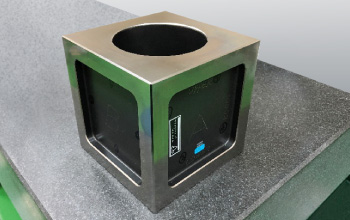 Precision scraping
Precision scraping is a key technology to make very accurate gear measurement possible. It is a precisely processing technology which can be handled by only our internal special engineers.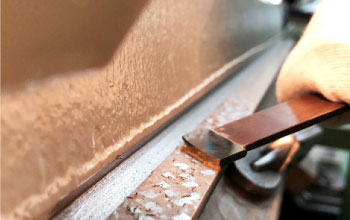 Measurement a small module gear
Measurement of the m0.27 small module internal gear
by CNC Gear Measuring System TTi-300H
Measurement of the small module internal gear
by NC Double Flank Gear Rolling Tester